This Bride's 'The Office' Themed Bridal Shower Is Absolute Perfection
FEATURED VIDEO
Kayleigh says her bridesmaids originally came up with the theme because they wanted to choose something they knew was super important to her. And, honestly, if you've seen one perfectly Instagrammable shower…you've seen them all. This puts a whole new spin on things — why not go all out for your girl and what truly makes her happy?

Like these beet centerpieces, no doubt fresh from Schrute Farms. Perhaps Mose himself even delivered them?
"You took me by the hand, made me a man…THAT ONE NIGHT, YOU MADE EVERYTHING AL-RIGH-HI-HIGHT." You can't truly set the mood for one of these things unless you've got the right scent. Rightfully provided by "Serenity by Jan," of course.

If the sight of Angela's baby photo were to upset any of Kayleigh's guests as much as it upsets Oscar, they can just smell all the candles to help them calm down.
While some bridal showers are going a more modern route by inviting guys, this one was not Toby-friendly.

Beet appreciation aside, t wasn't exactly Dwight-friendly either.
The sweet treats were even on point when it came to the theme.
You know it's a party when "Prison Mike" gets a nod.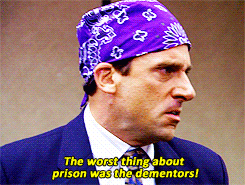 Basically, Kayleigh's bridesmaids must love her a whole bunch because they went balls-to-the-wall on nailing this theme. Perfect execution in every aspect, really.
"Once they chose the theme, they told me and kept everything else a surprise," she tells Scary Mommy. "The Office has been my go-to favorite show for years. I have a tattoo of a beet and a quote from Dwight, I can win any Office trivia we play, and I just LOVE that show so much."
If a bridal shower could win an award, we'd give them all to this one. But it actually kind of had its own award on display. Yep, you guessed it….A DUNDEE!

The bridal shower even took place in Scranton, Pennsylvania, which as any person who's seen even one episode of The Office knows is the home of Dunder-Mifflin, Michael Scott, Andy, Angela, Oscar, Phyllis, Stanley, Kevin, Creed, Dwight, Kelly, Ryan, Erin, Jim and Pam. Something tells me they'd all approve of this party.